What questions should I ask my contributors?
When you're asking people to upload videos, you need to make it as easy as possible for them to click submit video.
The video is one part of the collection process and the questions are the other. You can ask for the basic details around the name, email and location. You can then choose which details to display on your video template.
Tip: You can choose which details to display on your video clip layout. For example, you can collect the email and location of your contributors for data purposes but not place them on the video clip layout.
What are custom prompt questions?
Custom prompts can allow you to ask your contributors anything and everything. From job titles to Instagram tags, sentence reviews and more. However, you need to remember two things:
Contributors answers are limited to 125 characters
If you add the answer to your video clip layout, you need to remember the answers you are looking for will need to be short and sweet to not distract you from the video itself when reading.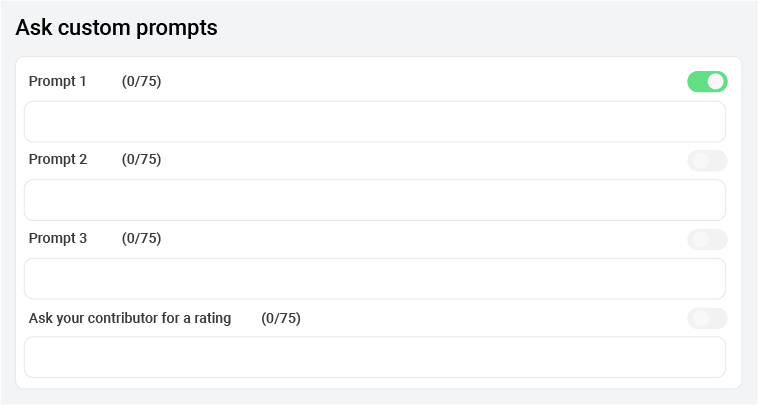 -
So, why would you ask for a custom prompt?
From one-word answers to sentences, custom prompts can add a lot of value to your videos. The reason for asking them is to display certain information on your video clips.
By adding "prompt 1 answer", you can place the answer to the question as a dynamic field on your video clip layout.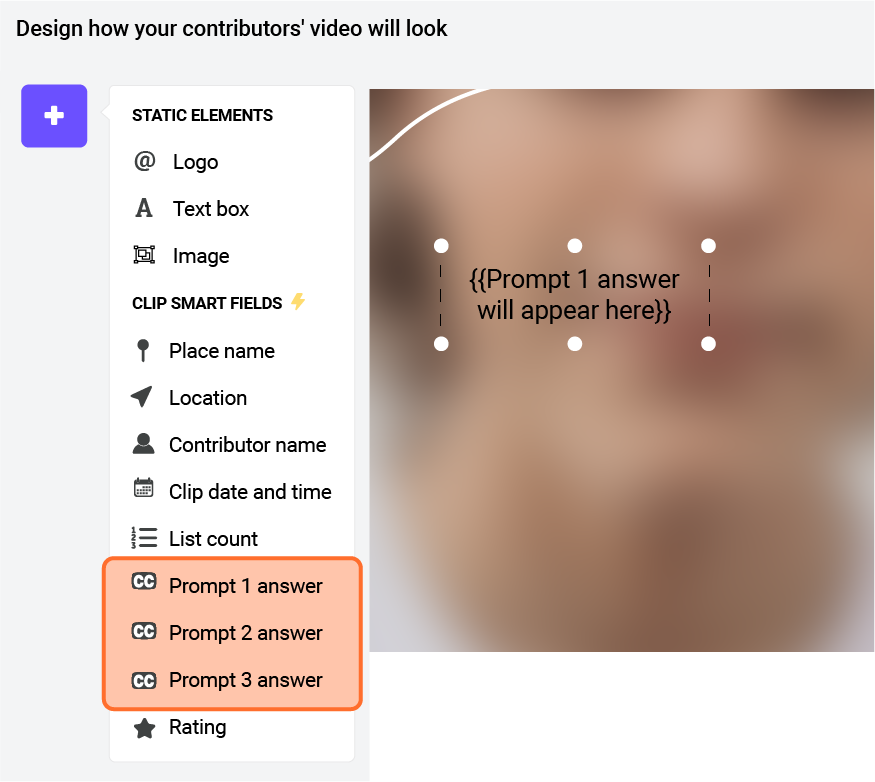 TIP: Ask direct questions that get simple answers, and don't be vague
-
Examples of custom prompt questions
What is your job title
What is your Instagram tag
What's the one thing you want people to know about how to use the product
What's one tip you want to tell others
-
Asking contributors for a rating
You can ask your contributors to place a rating about something out of 5. For example, rate our service out of 5. By adding the rating to the video clip layout, you can display the number of stars your customers and contributors give you. This is great for video reviews and products in action projects.

---
---