How to upgrade your plan
Upgrading Your Subscription in Vloggi: A Comprehensive Guide
Whether you're a novice or a seasoned Vloggi user, upgrading your subscription ensures you make the most of the platform's features. In this Help Center article, we'll walk you through the process of upgrading your subscription, explore the benefits of each plan, discuss payment options, and address potential questions that may arise during the process.
Accessing the Upgrade Subscription Tab
Log in to the Vloggi platform by visiting studio.vloggi.com
Once logged in, navigate to the bottom-left corner of the interface.
Locate the My Account button and click on it.
It will look like this: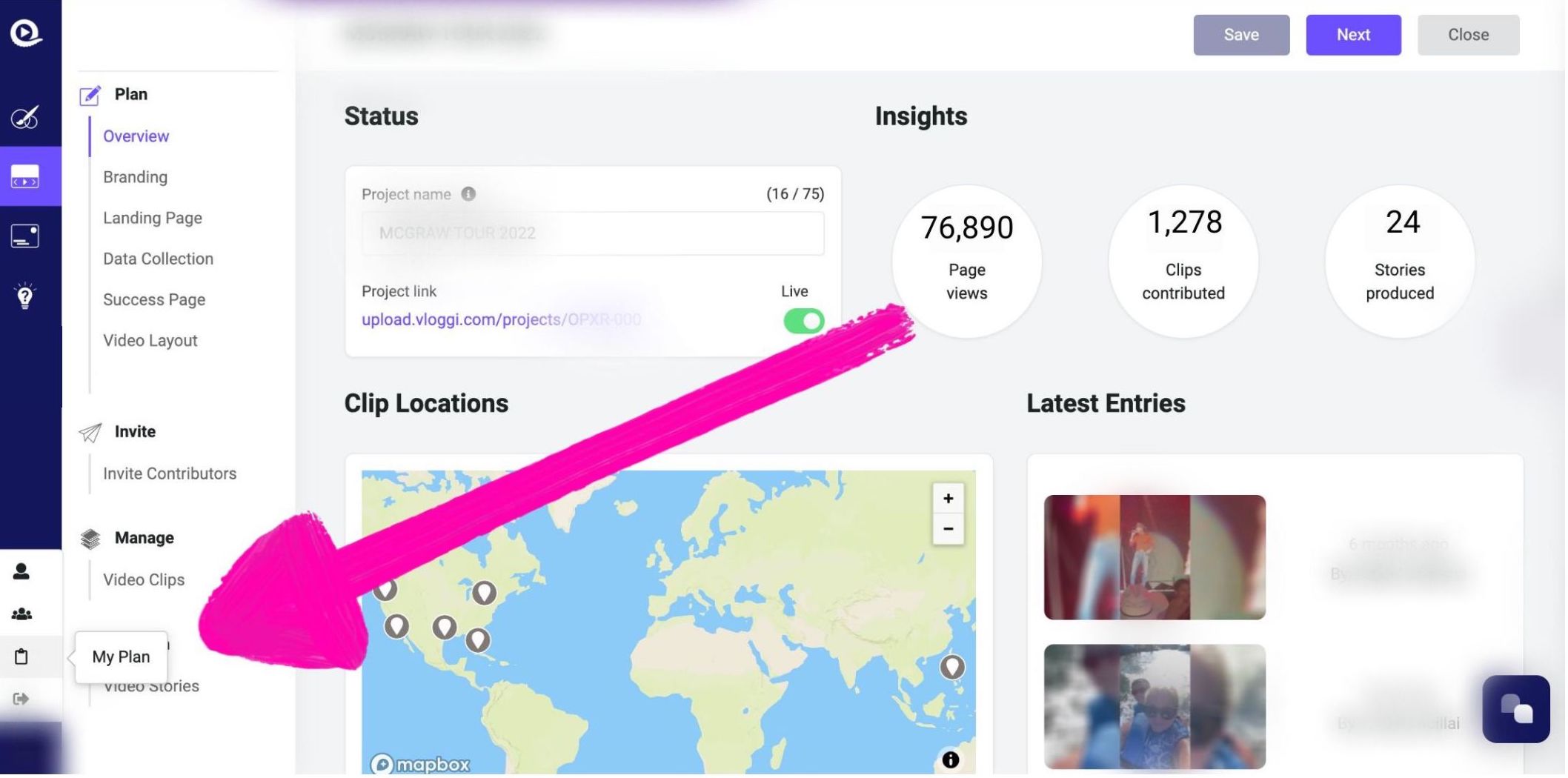 After clicking the button, you'll be redirected to the My Plan tab, where you can manage your subscriptions through the Stripe subscription management platform by clicking Manage my Billing.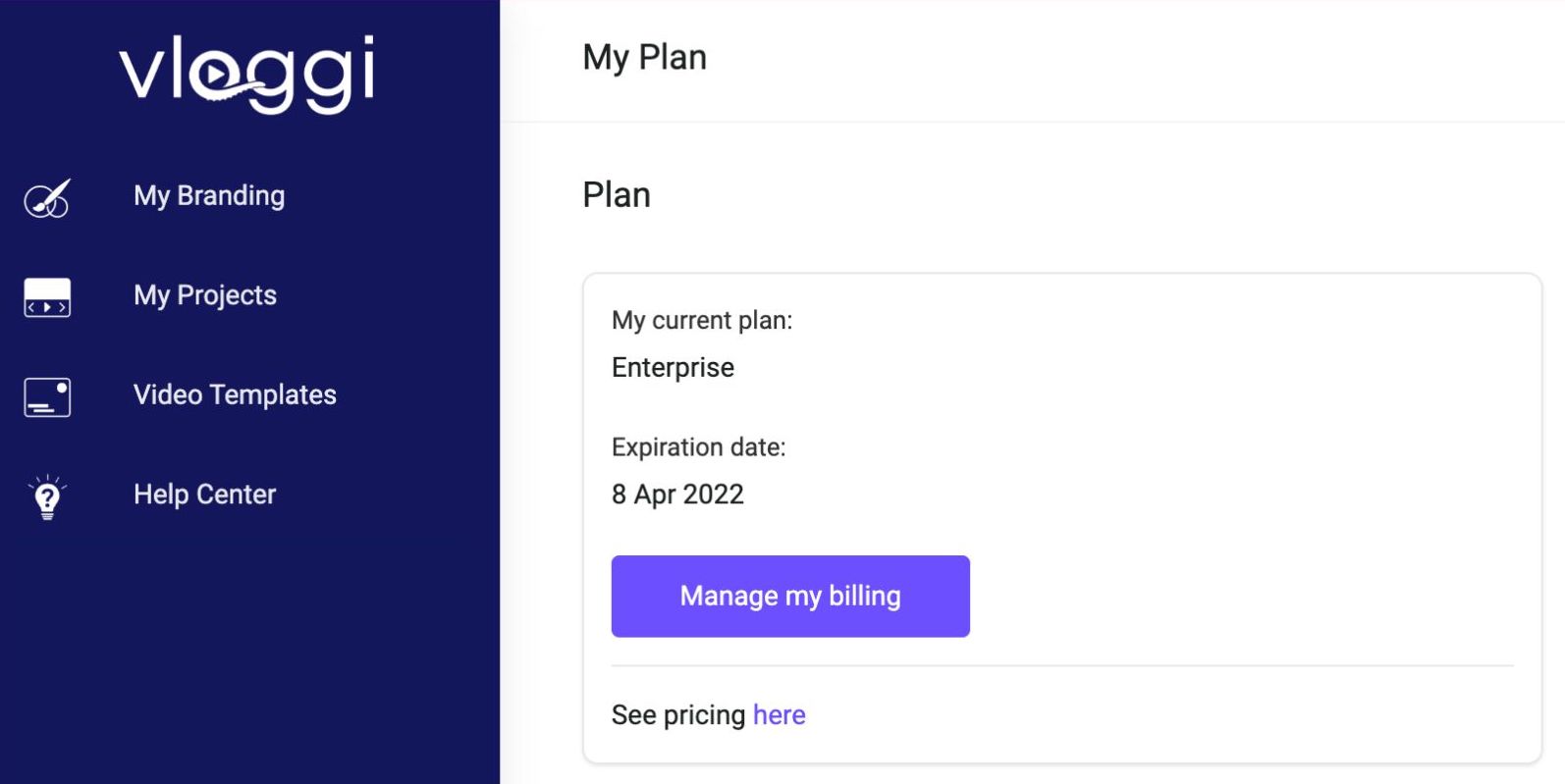 Subscription Options & Benefits
All plan details can be found on the Vloggi pricing page. In summary, Vloggi offers three primary subscription options:
Collector
Ideal for smaller companies who want to explore Vloggi with a smaller investment.
- Basic studio features
- 2 projects
- Storage for 25 uploaded clips
Community Recommended for professionals and small businesses with advanced collaborative video sourcing and collaboration requirements.
- Advanced editing features
- Collaborative project editing
- 5 project bins
- Storage for 250 uploaded clips
- 1080p video exports
- Priority support
Corporate. Tailored for large businesses and organizations with specific requirements, white-label solutions and premium support.
- All Community Plan features
- Storage for up to 1000 uploaded clips
- Custom clip storage and video exports
- White-label delivery solutions
- Enterprise-level support
- Dedicated account management
- Onboarding and training
To select and upgrade your plan, visit the Vloggi pricing page and click the "Upgrade" button below the desired plan.
Payment Methods & Options
Vloggi uses the secure payment gateway, Stripe, to manage all transactions and subscriptions. Vloggi does not hold any credit card information; it is all processed and protected by Stripe.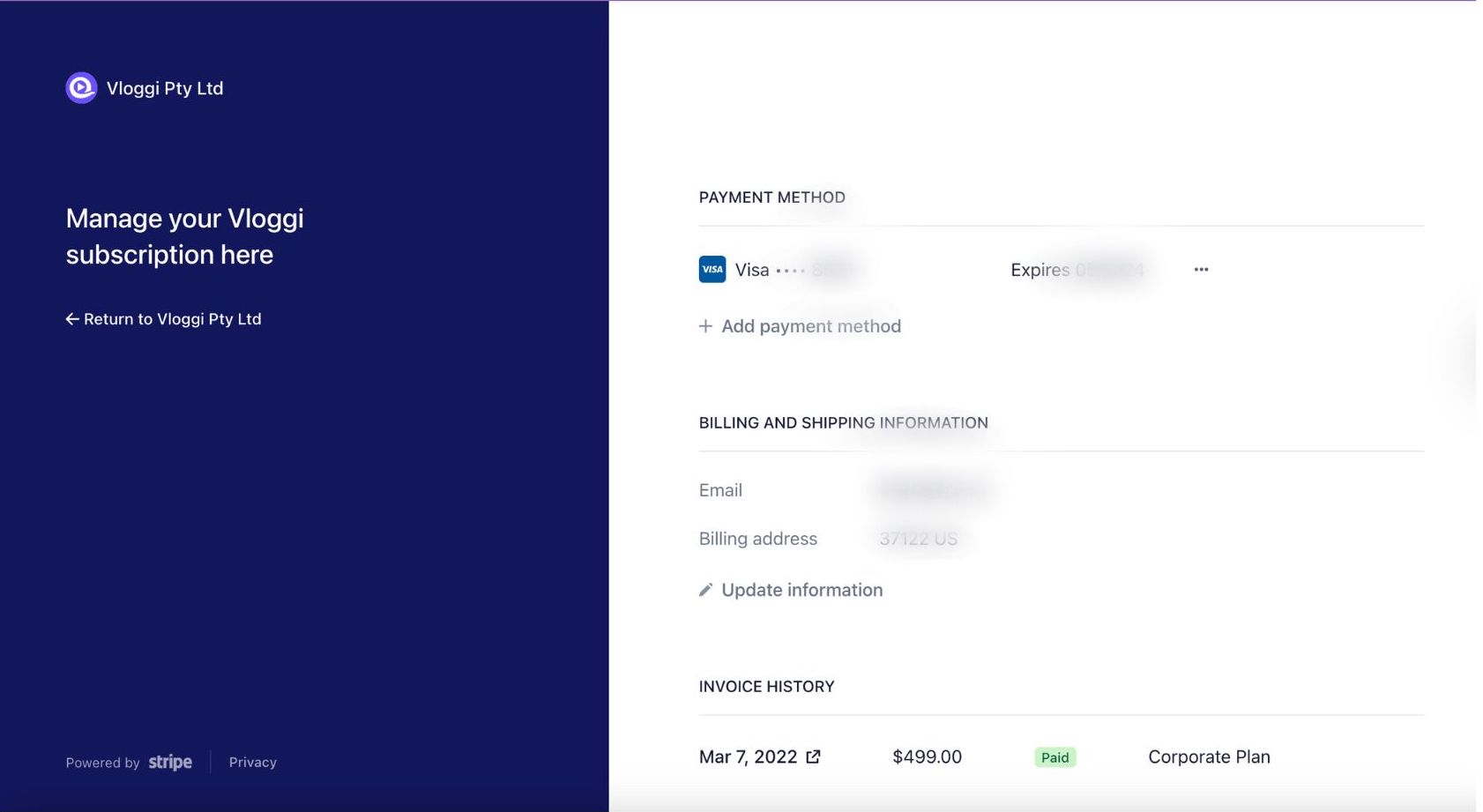 To amend payment details for Vloggi subscription
1. Click on the Manage my plan button in the bottom-left corner of the interface.
2. Select the Billing tab in the Stripe subscription management platform.
3. Follow the prompts to update your payment details or add a new payment method.
Frequently Asked Questions about Vloggi subscription
Q: Can I switch plans at any time?
A: Yes, you can upgrade or downgrade your plan at any time to suit your requirements.
Q: What happens to my projects and content if I downgrade my subscription?
A: When downgrading, you may lose some features, storage, and content. Ensure that you back up your content before making changes to your subscription.
Q: Are there any contracts or long-term commitments?
A: Vloggi plans are offered on a month-to-month basis or annual basis, so you can chose your commitment.
---
---